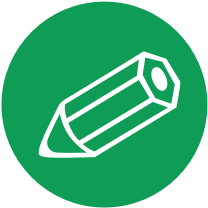 Choose an Add-On
Transcript

In this add-on, you will change your story's setting.

This video won't show you every block you need to complete the task, so will will have to use what you've learned so far in this club and get creative to figure it out.

Once you've finished your story, it will take place somewhere new.

Start by picking a new scene for your story.

You can choose one from the library, draw your own, or upload one.

Next, place the block that programs the scene change in the spot in your story where you'd like a new setting. Find the block that sets the scene in the looks menu.

When you have this working, you'll notice the program stays on this second setting.

Your story also needs to switch back to the original backdrop when the green flag is clicked.

Now it's your turn. Choose a new setting. Program the setting to change.

Change back to the starting backdrop when the green flag is clicked.