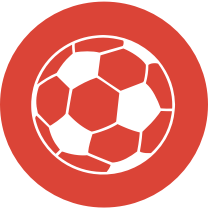 Choose an Add-On
Transcript

Great job completing your core project. If you haven't finished yet, go back and complete the steps in the previous videos. Now it's time to add some cool stuff to your project.

Here are your add-ons for this activity: With "Never-Ending Game," make your receivers disappear and regenerate each time you pass to them.

In "Passing Back," the ball will always bounce back to the starting position, and the receivers look like they're passing it back! "Power/Receiver Speed" adds realistic variables with sliders that control the speed of the ball and the receiver sprites much like a video game. In "Keep Score," add blocks that will count how many passes you complete. The challenge add-on "Point & Pass" will prompt you to change the appearance of the ball sprite. "Excitement" is another challenge add-on that will direct you to add a little dialogue for your receivers.

Enjoy creating and coding with these add-on videos, and do something to challenge yourself!