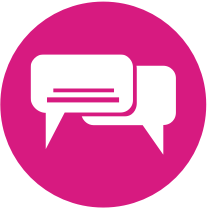 Choose an Add-On
Transcript

In this add-on, you will change your message based the user's response to a question.

This video won't tell you all of the steps, but it will help you get started.

You can target your message to your user by asking a question when a sprite receives the "play" message.

Add a conditional statement, an "equals" operator, and an "answer" block to make the sprite say something based on the user's answer.

In this example, the spokesperson sprite asks if the user cares about sports.

IF the user's answer is yes, THEN the sprite says, "Great!"

IF the user's answer is no, THEN the sprite says, "I hope I can convince you that sports are important!"

You can ask the user any question you like, and make the sprite respond with different messages based on the answer.

Now it's your turn!

Ask the user a question, and program the spokesperson sprite to say different responses based on the answer using a conditional and an "operator" block.