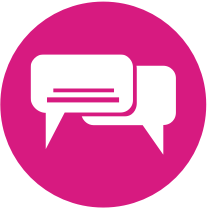 Choose an Add-On
Transcript

In this add-on, you will program a sprite to appear and talk when your program reaches the "my page" backdrop.

This video won't tell you all of the steps, but it will give you some ideas for how to program this add-on.

First, choose a new sprite from the library.

The sprite should not show when the green flag is clicked and should appear when the backdrop switches to the "my page" backdrop.

When the sprite shows on screen, add "say" blocks to make the sprite talk about the style board, some things you like, or how you made this project.

Now, it's your turn Add a new sprite to your program and code it to hide when the flag is clicked and appear when the program reaches the "my page" backdrop.

Add "say" blocks to talk about your Style Board.

If you need help, ask a neighbor or put up your sticky to get the attention of your CS First Guru.