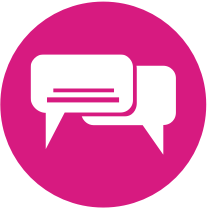 Choose an Add-On
Transcript

Congratulations on coding your profile page!

Now, you get the chance to customize your project with add-ons.

Scroll down this page to discover the different add-ons you can try to make your project unique and more fun.

Add a button to your project so that users can indicate that they liked your page in "+1 Button!"

In "Post a Shoutout," learn how to code your program so that users can give a shoutout or share a post.

Add music to your profile page in "Pump the Jams!"

Try coding your profile android to change it's look in "Change Profile Picture."

In the "Ping" add on, program your friend's sprites to respond to your favorite stuff!

Finally, code a surprising action on your profile page in "Hidden Feature."

To get started, click on one of the add-on choices below.

Have fun customizing your Profile Page!