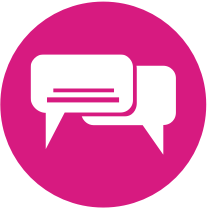 Choose an Add-On
Transcript

In this add-on, you will make the images say different responses when they receive a message to change their appearance.

This video won't tell you all of the steps, but it will give you some ideas for how to program it.

When you click a button sprite, it broadcasts a message to the image sprite.

When the image sprite receives that message, it changes its appearance.

You can make the image sprite react to this change in appearance.

For example, when the image sprite receives the "ghost" message, you could make it say, "I'm fading away!"

Or, you could program the image sprite to say something only if it is displaying a certain costume using an if-then block.

In this example, the image sprite says, "So many cats!" if costume number 3 is displayed when the mosaic button is clicked.

These are just a couple of ideas.

Be creative and have fun coming up with your own ideas.

Now it's your turn!

Program the image sprite to say something when it receives a message to change its appearance.