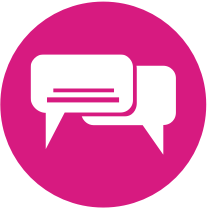 Choose an Add-On
Transcript

In this add-on, you will create your own unique filter.

In this example, a Pictogram filter sets the brightness, color, and ghost effect to specific values to make the image look old-fashioned.

The filter in this example is called Vintage, but you will choose your own name for your filter.

To begin, click the "custom" sprite and click the "show" block in the looks menu.

If you'd like, move the button to a place on the screen that makes sense to you.

In this example, the reset button is moved down, and the custom button is moved above it.

On the custom sprite, click the "i" icon, and rename the sprite to your filter name.

After you name the sprite, click the back button.

Then, select the costumes tab.

Click the text icon, then change the text on the button.

Write the name of your filter here as well.

Change the color of the button if you'd like.

To program your custom filter, add a "broadcast message" block.

Name the message something related to your custom filter name.

Add a "when this sprite clicked" event to the top of the code stack.

Select the image sprite, and add a "when I receive" block.

Select the message you just created from the dropdown menu.

Next, add a "set effect to" block to the block stack.

Click the dropdown menu to pick the effect you want to set, like whirl, brightness, or pixelate.

You can add multiple "change effect" blocks to your block stack.

Tinker with the values in the "change effect" blocks until you get a result that you like.

Now, when the user clicks the new filter button, it applies your custom filter effects to the image.

Now it's your turn: Show the custom sprite and rename the sprite to your filter name.

Program this new sprite to broadcast a message when clicked.

Program an image sprite to receive this message and change its look using at least one "set effect" block.