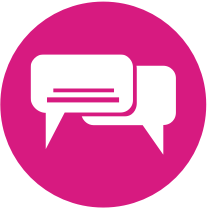 Choose an Add-On
Transcript

Congratulations on creating your very own drawing game!

Now, you get the chance to add more cool features with add-ons.

This video will explain the add-ons you can choose to customize your project.

Just like in the main videos for this project, watch the video first to learn how to build the add-on, then try programming it on your own.

To get started, click on one of the add-on choices after you watch this video.

"Color Picker" lets the user change the color of the pen.

In the second part of the "Color Picker" add-on, program a rainbow button to constantly change the color of the pen.

"Pen Size Adjustment" allows the user to change the size of the pen.

Make the monkey do a little dance and introduce the game with "Monkey Animation."

In "Draw Inside the Lines," make it impossible to draw outside the white spaces.

Finally, "Sound Effects" gives you the chance to add sound to your game.

Explore the add-ons that look fun to you.

If you want to continue to create and explore after today's club is over, you can access Scratch and CS First from any computer that has access to the internet.

Have fun customizing your project!