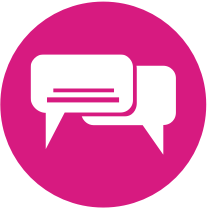 Choose an Add-On
Transcript

In this add-on, you will add sound to your quiz.

This video won't tell you all the steps, but it will give you some ideas for how to program this add-on.

In this example, one sound plays if the user gets the Dorothy result, and another sound plays if the users gets the Wicked Witch result.

You can add sound wherever you want in your project.

You could program a sound to play when the user starts the quiz, chooses an answer to a question, or gets the results.

To add sound to your project, click the stage or the sprite that will play the sound.

Then, click the sounds tab, and click "choose sound from library."

To hear the sound clips available, click the play button above each sound name.

To add this sound to your program, try out some of the blocks in the sounds tab.

Now, it's your turn!

Add one or more sounds from the sound library.

Then program the sounds to play when the user starts the quiz, answers a question, or views the quiz results.