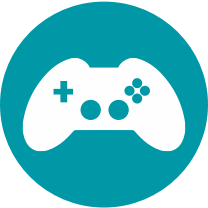 Choose an Add-On
Transcript

In this add-on, you'll program the obstacle sprite to spin. If you already programmed the obstacle to grow with another add-on, that's okay. You can do both!

To start, click on the obstacle sprite. Then, drag out a "turn" block, and click to try it. Perfect! It turned. Next, turn the the obstacle forever.

To do that, use a forever loop. Whoa! That's really fast! Changing this 15 degrees to something smaller will make it turn more slowly… try a few options.

For example 5… then 1… Play around with the speed on your own, and find a number you like for your program. Finally, add an event to tell the computer when to start spinning this obstacle. In this example, it's "when flag clicked," but use any event that makes sense for your project. Now, it's your turn: Program a spinning obstacle using a "turn" block and a forever loop. Start the obstacle spinning with an event.