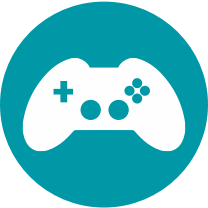 Choose an Add-On
Transcript

In this add-on, you'll redesign the boundaries used in this game, and you'll learn how to create an entirely new maze. To start, select the stage, then the backdrops tab. This takes you to the backdrop editor. Scratch has two drawing modes, vector and bitmap. This backdrop was created in vector mode, which means that you can click and drag shapes to edit them. To edit the shapes already on this backdrop, use the reshape tool to reshape the boundaries. To create a backdrop from a blank canvas, click paint new backdrop, and explore the paint tools in Scratch. If you want to use the reshape tool, be sure to create your shapes in vector mode.

It's okay to explore and even make mistakes. You can always use the undo button at the top of the editor to go back a step if you do something you don't like.

If you change the colors of your boundaries, update the color values in the touching condition.

Now, it's your turn: Create a new maze or change the current boundaries using the paint editor.