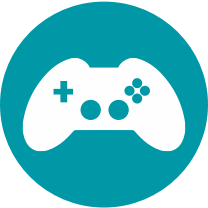 3. What is Computer Science?
Transcript

Hey, and welcome to CS First Game Design! I'm Taylor, and I'll be leading you through a computer science exploration over the next 8 days of this club.

Today, you'll learn what computer science is, see the games you'll make in this club, and finally, have an opportunity to make your very first computer program in this CS First club! CS First Game Design is a computer science club. Computer science uses computers to make amazing projects (also called programs) that allow people to play, entertain themselves and others, solve problems, do work, and save time. In this club, you'll learn all the different ways computer science relates to things you do and see every day--you might be surprised! In this club, the projects you will build involve creating video games. However, Computer Science allows people to build all types of projects and solve many types of problems, from creating a cell phone app that sends text messages to finding cures for diseases. Over the next 8 club sessions, you'll be introduced to some of the incredible creations people build and problems people solve using computer science. You will also learn how to use computer science to create your own games and applications. When this club ends, you will have a portfolio of your own video game creations, and will have developed a basic understanding of many computer science concepts. Take a look at these games that you'll have a chance to build over the next 8 club sessions. Games often tell a story. The main character in a game might progress through a series of levels to rescue a friend or save the world.

In this activity, you'll create a project that tells a story using Scratch. You will start your story by answering one of these questions: What game character is most like you and why? What do you like about your favorite game or app? Do you think kids should play more or fewer video games? Why?

This video will introduce how to open a starter project and sign in to Scratch. Watch this video to learn how, then try it on your own. Click the "Day 1" starter project link next to this video to open Scratch in a new tab.

To save this project to your account, click remix, and enter the sign-in information from your passport.

Take a moment now to make sure you are also signed in to the cs-first website using the same username and password from your passport. If you are *not* signed in, you won't receive a digital badge for completing this activity, so be sure to sign in!

Once you've done this, click the CS First tab, then the arrow under this video to move on to the next video. In the next video, you'll learn how tell a story of your own.