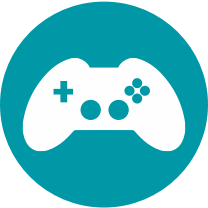 7. Wrap-up: Cave Surfing Game
Transcript

In each day of Scratch Games you have used computer science to solve difficult problems.

Take a look back at all you've accomplished and learned in just eight days.

On your first day, you shared about a game that interests you.

On day two, you created a racing game with events and "repeat" blocks.

On day three, you created a maze game and used if statements for the first time.

On day four, you explored and created a platform game, one of the most popular genres of early video games. Day five, you created a chaser game that introduced the timer variable. Day six, you created a launcher game, which required the use of variables. On day seven, you created a role playing game.

And today, you programmed a complex scrolling backdrop game.

This club may be ending today, but that doesn't mean your computer science journey has to end. You can continue to access your Scratch account and all of your Scratch projects after this club ends. The videos and activities you worked on are also available on the CS First website. You can explore any of the other available themes.

Scratch has a large community of other computer scientists who, like you, are learning and creating with Scratch. From the Scratch website you can explore and comment on other people's creations and share your own. Scratch and computer science can also be useful tools for class projects. Consider using Scratch to create an interactive story, presentation, or game the next time you're asked to create a school project.

In High School, you may have the chance to take a computer science course. As a CS First club member, you should feel prepared for whatever your next computer science experience may be. Believe it or not, only 30 to 40 years ago, very few people owned computers.Today, computers are everywhere. Nearly every school and workplace relies on computers to do their job. In CS First, you took an important first step in learning computer science, skills that, no matter your path in life, will be important.

The CS First team would like to thank you and congratulate you on all that you have accomplished in this club. The future will be a better place with more computer scientists, like you, understanding how to program and use technology.