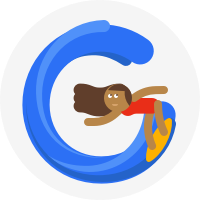 Choose an Add-On
Transcript

Changing the way sprites look is one way to tell a story or express the theme.

In this video, you will edit, draw, or add an image to change how a sprite looks.

To start, select a sprite to change.

This example uses the letter "G," but use any letter you'd like.

Then, click the costumes tab.

This sprite has many costumes to choose from.

To change the color of a letter, select the paint bucket tool and a color, then click the sprite.

To add a different sprite, click "Choose costume from library," and select a sprite.

For example, you might replace a sprite with a similar-shaped object, like a basketball for the letter "O."

To draw your own sprite, click "Paint new costume."

Use the paintbrush tool to draw.

Experiment with the different features.

Hover over a button to read what it does.

You can even add an image from the internet.

If you don't know whether you are allowed to download images, check with an adult.

Then, search for and download an image.

Go to google.com and select "Images."

Search for an image.

To find images you can use in Scratch, search for "Labeled for reuse with modification."

Once you find an image, download it to your computer.

Select "Upload costume from file," and select the file you downloaded.

To resize an image, click, hold, and drag a rectangle around it.

Then click, hold, and drag the edges to the appropriate size.

If you'd like to remove a solid color border, use the transparency color swatch and the paint bucket tool.

Now it's your turn: Experiment with ways to edit, draw, and add sprites to your project.

Once you finish, return to this page to select another video.