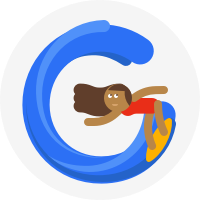 Choose an Add-On
Transcript

One way to tell a story with your logo is to change the area behind it, called the "backdrop."

In this video, you will add a button to your project that switches backdrops.

To start, select some backdrops.

Click "Choose backdrop from library."

As you add backdrops, they will show up in the "backdrops" tab.

To remove a backdrop from the list, click the "x."

Next, add a sprite to act as a button, so people who interact with your project can click it to change backdrops.

Click "Choose sprite from library."

This example uses an arrow, but use any sprite you like as your button.

Next, program the backdrop to change.

Select the "Looks" menu.

Then, click, hold, and drag out a "switch backdrop to" block.

From the menu, select "next backdrop" Click the block a few times.

Alright!

The backdrop changes with each click.

Next, program this block to run when the sprite is clicked.

From events, add a "when this sprite clicked" block.

Try it out!

Woo-hoo!

Now it's your turn: Add backdrops to your project.

Add a new sprite.

Add a "when sprite clicked" and "change backdrop to" block.

Change the value to "next backdrop" Once you finish these steps, return to this page to select another video.