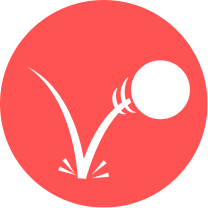 Choose an Add-On
Transcript

In this add-on, you will create a climax for the Studio Logo.

Studio Logos are often structured like very short stories that have a rising action and a climax.

In such a short piece, the climax usually happens right before the screen transitions from the logo to the start of the project.

Check out these examples.

To add a climax to your studio logo, first add a new costume.

Feel free to upload a sprite file or use the sprite drawing tool to draw a new costume in the project editor.

This example adds an android.

Create another clone, and add another conditional statement.

Use "wait," "hide," and "show" blocks to make the clone appear at the right time.

Use a "go back layers" block to make the clone appear either in front of or behind the other clones.

In this example, the android appears after 2.5 seconds and plays a sound.

Test your code and tinker with the values in the blocks to get a desired look.

Use what you know to create your very own climax.

Show it to a friend, and ask for suggestions on how to improve it--your fellow club members may have a few great ideas!

Now, it's your turn!

Create a new costume, and clone it.

Then, program a climax for your Studio Logo.