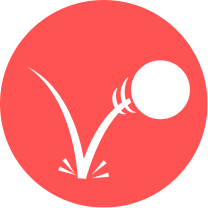 Choose an Add-On
Transcript

Welcome to the add-ons page.

You are ready to make the project even cooler!

Here's an overview of all the add-ons for today: "Game Over" will give your hero a set number of lives.

You lose the game when the hero loses too many lives.

After the "Laser" add-on, your hero will shoot lasers to vanquish the evil bugs.

"Power-up" adds a special power pellet to make the hero jump way higher!

"Falling Rocks" adds a new obstacle: boulders that fall from the sky!

If you play "Platforms," the terrain of your game will change to move up and down!

Finally, "Follower Friend" will show you how to add a cute buddy who follows the hero around.

Have fun and remember that you can add to your project however you want!

These are just some cool ideas.